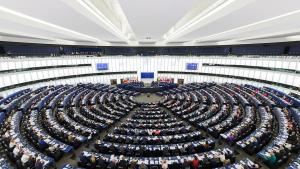 The European Parliament's environment committee yesterday voted to support a proposal for phasing out biofuels, but green groups are saying they "completely failed" to secure measures for climate friendly usage of biomass with regards to heating and electricity.

A vote last night on a revision of the Renewable Energy Directive supported the phasing out of biofuels that have been deemed harmful to the environment, but activists have claimed this may encourage more wood burning.

Sini Eräjää, EU bioenergy policy officer at BirdLife Europe, said "The outcome of the vote today allows increased exploitation of forests and logging of sensitive habitats just to burn the wood for energy."

"This outcome fails both forest conservation and climate mitigation, and it also fails to provide long term stability for truly sustainable bioenergy producers, such as the ones processing waste streams."
The result, they said, is that "we'll see more EU mandated use of whole trees or stumps despite a wide scientific acknowledgement that is bad for the climate".

Environmental groups NGO and Fern have warned that further incentives, such as this, to burn wood are leading to more harvests and emissions, as well as pressure on forests in Europe and beyond.

"With tonight's vote, the Environment Committee has made the unthinkable possible, namely to weaken the Commission's proposal on a sustainable use of forest biomass," FERN said. "This approach will still allow Member States to burn whole trees in old converted coal-fired power stations".

Others are expressing similar concern that MEPs are apparently 'solving' the problem of climate change by burning more trees – a completely counter-intuitive move. Those on any environmental committee should always but the interests of the climate (as confirmed across the scientific establishment) before corporate interests.

A group of scientists have already sent an open letter to the EU asserting this fact, and warning of the harmful effects of this proposal. It is hoped, as a result, that the Parliament will override this dangerous decision when they vote in plenary next year.
---
Blog Archive
$1tn private sector investment supports Paris climate goals
3 Nov 2017 - Click for More
Environmentalists decry RED revision
25 Oct 2017 - Click for More
Conference looks at woody biomass sustainability issues
16 Oct 2017 - Click for More
Woody biomass criteria lead to unreliable data
16 Oct 2017 - Click for More
New film uncovers lies behind biomass industry
20 Sep 2017 - Click for More
Greenyard Group's move to recycled woody biomass
29 Aug 2017 - Click for More
US states push for high-carbon emitting agenda
29 Aug 2017 - Click for More
Uncertain greenhouse data threatens Paris agreement
17 Aug 2017 - Click for More
Woody biomass certification a 'smokescreen' for unsustainability
28 Jul 2017 - Click for More
Earth Day protests reveal anger at biomass plans
14 Jul 2017 - Click for More
Study faults 'conflicts of interest' within biomass industry
10 Jul 2017 - Click for More
MDF recycling solution no.1 for energy efficiency
5 Jul 2017 - Click for More
Accounting rule loopholes bad news for our forests
20 Jun 2017 - Click for More
Replanting trees doesn't fix climate change, scientists warn
2 Jun 2017 - Click for More
Waste from coffee and poultry provide viable bio-fuel option
2 Jun 2017 - Click for More
Tree-planting has limited affect on climate change, study finds
30 May 2017 - Click for More
More renewable power than ever before, so why are we still using biomass?
25 May 2017 - Click for More
Is bioenergy increasing emissions in Europe?
15 May 2017 - Click for More
MPs slam government's carbon record
8 May 2017 - Click for More
View full news archive