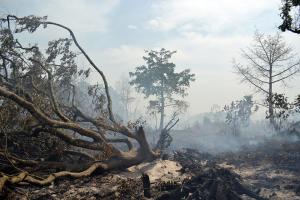 A new 60 minute film on the shocking destruction of forests and the blatant greenwashing of the woody biomass industry premiered at the American Conservation Film Festival last week.

'Burned: Are Trees the New Coal?' Is an eye-opening look at the policy loopholes, huge subsidies and falsely carbon-neutral practises behind one of the biggest lies of our generation: the woody biomass industry.

After two years of shooting, local filmmakers Alan Dater and Lisa Merton have released their stark look at our endangered biome, and the timing couldn't be more appropriate as the ongoing 'debate' around woody biomass has very quickly become an urgent and divisive issue.

The dangerously misguided concept of harvesting and burning forests as a sustainable source of energy is decimating woodlands and causing lasting damage to our environment. But companies seem to be doing it more and more.

Corporations are increasingly buying coal plants and retrofitting them into biomass facilities, all of which burn huge quantities of wood chips and pellets - sometimes as much as 2,550 pounds per minute.

These retrofitted plants benefit hugely from a financial perspective since they the receive large government subsidies due to the fact that woody biomass is sold as being 'carbon neutral', despite overwhelming evidence to the contrary.

"Yes, trees grow back," says Mary Booth, Ph.D., director of the Partnership For Policy Integrity, an energy-policy advocacy group, "but we don't have the 20, 30, 50 years it takes."

Companies aren't always turning a blind eye to make a profit, however. Many well-meaning officials believe the lies they're told about woody biomass because of false facts and selective data.

The film documents how forests are being razed for chipping and pellet production, the carbon cost of cutting and transporting the wood (that are not included in calculations) and the full effects of the destruction being perpetrated on our very doorstep. And it's an issue that affects us all.
---
Blog Archive
$1tn private sector investment supports Paris climate goals
3 Nov 2017 - Click for More
Environmentalists decry RED revision
25 Oct 2017 - Click for More
Conference looks at woody biomass sustainability issues
16 Oct 2017 - Click for More
Woody biomass criteria lead to unreliable data
16 Oct 2017 - Click for More
New film uncovers lies behind biomass industry
20 Sep 2017 - Click for More
Greenyard Group's move to recycled woody biomass
29 Aug 2017 - Click for More
US states push for high-carbon emitting agenda
29 Aug 2017 - Click for More
Uncertain greenhouse data threatens Paris agreement
17 Aug 2017 - Click for More
Woody biomass certification a 'smokescreen' for unsustainability
28 Jul 2017 - Click for More
Earth Day protests reveal anger at biomass plans
14 Jul 2017 - Click for More
Study faults 'conflicts of interest' within biomass industry
10 Jul 2017 - Click for More
MDF recycling solution no.1 for energy efficiency
5 Jul 2017 - Click for More
Accounting rule loopholes bad news for our forests
20 Jun 2017 - Click for More
Replanting trees doesn't fix climate change, scientists warn
2 Jun 2017 - Click for More
Waste from coffee and poultry provide viable bio-fuel option
2 Jun 2017 - Click for More
Tree-planting has limited affect on climate change, study finds
30 May 2017 - Click for More
More renewable power than ever before, so why are we still using biomass?
25 May 2017 - Click for More
Is bioenergy increasing emissions in Europe?
15 May 2017 - Click for More
MPs slam government's carbon record
8 May 2017 - Click for More
View full news archive