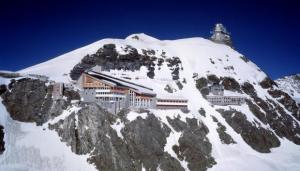 An air monitoring station in Switzerland has detected large amounts of climate-warming gases being emitted into the atmosphere that are not being recorded in official inventories.

These flaws pose a threat to the accuracy of the Paris Climate Agreement, which was signed by 195 countries in 2015. The treaty is a requirement of every country, rich and poor, and asks that each submits an inventory of its emissions every two years.

In particular, the station has noticed large amounts of CFCs going into the atmosphere (a gas that is 14,800 times more warming to the atmosphere than CO2).

"Our estimate for this location in Italy is about 60-80 tonnes of this substance being emitted every year. Then we can compare this with the Italian emission inventory, and that is quite interesting because the official inventory says below 10 tonnes or in the region of two to three tonnes," said Dr Stefan Reimann, from the Swiss Federal Laboratories for Materials Science and Technology.

"They actually say it is happening, but they don't think it is happening as much as we see."

There also seem to be vast uncertainties over carbon emissions in many developing countries. For example India, which produces a lot of methane gas, have a plus or minus figure of 50 per cent – indicating a significant lack of clarity over figures.

Another major issue is that by environmental regulations standards, woody biomass is considered to be a sustainable resource – meaning the amount of CO2 it produces is in fact vastly underrepresented.

The problem with these factual inaccuracies over the amount of CO2 being released into our atmosphere is that, without a strong basis in data, the Paris agreement is essentially futile.
---
Blog Archive
$1tn private sector investment supports Paris climate goals
3 Nov 2017 - Click for More
Environmentalists decry RED revision
25 Oct 2017 - Click for More
Conference looks at woody biomass sustainability issues
16 Oct 2017 - Click for More
Woody biomass criteria lead to unreliable data
16 Oct 2017 - Click for More
New film uncovers lies behind biomass industry
20 Sep 2017 - Click for More
Greenyard Group's move to recycled woody biomass
29 Aug 2017 - Click for More
US states push for high-carbon emitting agenda
29 Aug 2017 - Click for More
Uncertain greenhouse data threatens Paris agreement
17 Aug 2017 - Click for More
Woody biomass certification a 'smokescreen' for unsustainability
28 Jul 2017 - Click for More
Earth Day protests reveal anger at biomass plans
14 Jul 2017 - Click for More
Study faults 'conflicts of interest' within biomass industry
10 Jul 2017 - Click for More
MDF recycling solution no.1 for energy efficiency
5 Jul 2017 - Click for More
Accounting rule loopholes bad news for our forests
20 Jun 2017 - Click for More
Replanting trees doesn't fix climate change, scientists warn
2 Jun 2017 - Click for More
Waste from coffee and poultry provide viable bio-fuel option
2 Jun 2017 - Click for More
Tree-planting has limited affect on climate change, study finds
30 May 2017 - Click for More
More renewable power than ever before, so why are we still using biomass?
25 May 2017 - Click for More
Is bioenergy increasing emissions in Europe?
15 May 2017 - Click for More
MPs slam government's carbon record
8 May 2017 - Click for More
View full news archive