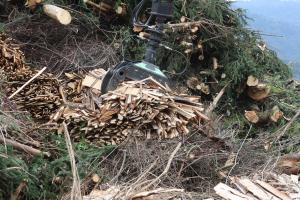 A woody biomass certification program is accused of being a 'smokescreen' for forest destruction and the unsustainable effects of wood-burning biomass.

On the surface, the Sustainable Biomass Program is a certification system that enables users of woody biomass production to demonstrate compliance with regulatory requirements, but an issue paper from the Dogwood Alliance and Natural Resources Defense Council: "The Sustainable Biomass Program: A Smokescreen for Forest Destruction and Corporate Non-Accountability", claims otherwise:

"Unfortunately, and despite evidence to the contrary, climate and energy policies in the European Union treat biomass energy as carbon neutral, on par with other truly clean energy technologies like wind and solar.
"In fact, when all emissions are counted, forest biomass fuels—such as wood pellets made from whole trees and other large-diameter wood—emit carbon pollution comparable to, or in excess of, fossil fuels for more than five decades. Still, these wrongheaded policies have sent the demand for biomass soaring."

The SBP certification system is broken down into 38 criteria covering a range of requirements from compliance with local laws to making sure carbon stocks are maintained or increased. However, many experts have taken issue with the way carbon stocks are measured, and disagree that they are simply replaced by planting trees.

"As a whole, the SBP is more noteworthy for what it doesn't require rather than what it does. It functions basically as a self-assessment scheme for biomass producers, with virtually no requirements for independent on-site forest audits. Its "forest of loopholes" ignores both the emissions from burning biomass feedstocks and the substantial amount of forest carbon that can be lost through logging natural forests in requirements for carbon emissions claims."

The report claims the program contains little genuine protection for forests and environments, and it's therefore wrong for European policymakers to look to sourcing standards such as the SBP for "green" energy options.

"We caution policymakers in the United States and Europe to reassess whether the SBP can mitigate the carbon and sustainability risks inherent to burning biomass for energy and call on them to invest in truly clean and lower-cost energy technologies like solar, wind, and energy efficiency."
---
Blog Archive
$1tn private sector investment supports Paris climate goals
3 Nov 2017 - Click for More
Environmentalists decry RED revision
25 Oct 2017 - Click for More
Conference looks at woody biomass sustainability issues
16 Oct 2017 - Click for More
Woody biomass criteria lead to unreliable data
16 Oct 2017 - Click for More
New film uncovers lies behind biomass industry
20 Sep 2017 - Click for More
Greenyard Group's move to recycled woody biomass
29 Aug 2017 - Click for More
US states push for high-carbon emitting agenda
29 Aug 2017 - Click for More
Uncertain greenhouse data threatens Paris agreement
17 Aug 2017 - Click for More
Woody biomass certification a 'smokescreen' for unsustainability
28 Jul 2017 - Click for More
Earth Day protests reveal anger at biomass plans
14 Jul 2017 - Click for More
Study faults 'conflicts of interest' within biomass industry
10 Jul 2017 - Click for More
MDF recycling solution no.1 for energy efficiency
5 Jul 2017 - Click for More
Accounting rule loopholes bad news for our forests
20 Jun 2017 - Click for More
Replanting trees doesn't fix climate change, scientists warn
2 Jun 2017 - Click for More
Waste from coffee and poultry provide viable bio-fuel option
2 Jun 2017 - Click for More
Tree-planting has limited affect on climate change, study finds
30 May 2017 - Click for More
More renewable power than ever before, so why are we still using biomass?
25 May 2017 - Click for More
Is bioenergy increasing emissions in Europe?
15 May 2017 - Click for More
MPs slam government's carbon record
8 May 2017 - Click for More
View full news archive