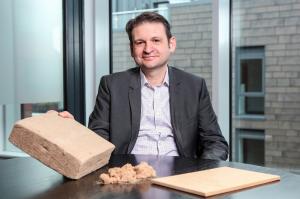 The world-first technology that creates a secondary material from recycled MDF boards is a zero-waste, zero-emission solution to the problems of landfill and incineration.

New breakthrough technologies from company MDF Recovery mean the waste from MDF can be used to create new products, virgin wood materials or biomass.

The recycling process shreds the MDF waste at low speeds to avoid creating large amounts of dust. The compound is then soaked in hot water to create a sort of pulp, after which an electric current is passed through the material, raising the temperature of the MDF and breaking apart the resin bonds.

The wood fibres can then be removed and dried for reuse, while the wax and resins remain in the water. Then, the water is removed (and reused) and the additives that are left behind are dried and pressed to be used as fuel for energy recovery.

The initiative is a result of six years of research and development, and is currently undergoing a period of testing before results are analysed and operational costs are projected.

In the near future, the company aims to establish the UK's first commercial-scale MDF recycling plant, with worldwide licensing of the technology and a retro-fit option for existing plants.

Research is currently underway to find a way to reuse the heat the process will produce to save money and energy.
---
Blog Archive
$1tn private sector investment supports Paris climate goals
3 Nov 2017 - Click for More
Environmentalists decry RED revision
25 Oct 2017 - Click for More
Conference looks at woody biomass sustainability issues
16 Oct 2017 - Click for More
Woody biomass criteria lead to unreliable data
16 Oct 2017 - Click for More
New film uncovers lies behind biomass industry
20 Sep 2017 - Click for More
Greenyard Group's move to recycled woody biomass
29 Aug 2017 - Click for More
US states push for high-carbon emitting agenda
29 Aug 2017 - Click for More
Uncertain greenhouse data threatens Paris agreement
17 Aug 2017 - Click for More
Woody biomass certification a 'smokescreen' for unsustainability
28 Jul 2017 - Click for More
Earth Day protests reveal anger at biomass plans
14 Jul 2017 - Click for More
Study faults 'conflicts of interest' within biomass industry
10 Jul 2017 - Click for More
MDF recycling solution no.1 for energy efficiency
5 Jul 2017 - Click for More
Accounting rule loopholes bad news for our forests
20 Jun 2017 - Click for More
Replanting trees doesn't fix climate change, scientists warn
2 Jun 2017 - Click for More
Waste from coffee and poultry provide viable bio-fuel option
2 Jun 2017 - Click for More
Tree-planting has limited affect on climate change, study finds
30 May 2017 - Click for More
More renewable power than ever before, so why are we still using biomass?
25 May 2017 - Click for More
Is bioenergy increasing emissions in Europe?
15 May 2017 - Click for More
MPs slam government's carbon record
8 May 2017 - Click for More
View full news archive