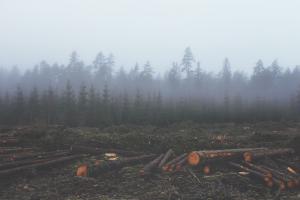 Around one third of CO2 emissions between 1750 and 2011 came from changes in land use and forest cover, according to a 2013 report by IPCC. This figure shows just how important it is for us to manage our global forests considerately in order to avoid putting further pressure on our already fragile climate.

Seeing the effects of climate change has added urgency to finding a way to address the global problem of deforestation, but the results have been mixed.

As the European Parliament plans to update their decision on how emissions are accounted for within the EU's Paris Agreement commitments over the next few days, many are jostling for the accounting rules to be watered down – making it easier for some, such as the woody biomass industry, to hide the true impact of their processes on the environment.

If an incorrect baseline makes it appear that forests have sequestered more CO2 than they actually have, this can then justify putting off meaningful emission reductions elsewhere. An issue that must be avoided.

According to environmental commentator Zac Gratton: "The second major issue surrounds the Emissions Sharing Regulation. This allows removals from the LULUCF sector to be used as carbon credits to compensate for emissions in sectors not covered by the EU's Emissions Trading Scheme (ETS). These non-ETS sectors are responsible for almost 60% of the EU's emissions, and include transportation, agriculture, waste and buildings.

"If these rules are included in the LULUCF regulation on June 22nd, it will mean that the C sequestration capacities of forests can be used to avoid making meaningful cuts in other areas of society".

Accounting for all emissions correctly, on the other hand, would incentivise climate friendly forest management instead of encouraging burning forests for biomass, whereas allowing people to manipulate these rules could cause long-lasting, damaging effects.
---
Blog Archive
$1tn private sector investment supports Paris climate goals
3 Nov 2017 - Click for More
Environmentalists decry RED revision
25 Oct 2017 - Click for More
Conference looks at woody biomass sustainability issues
16 Oct 2017 - Click for More
Woody biomass criteria lead to unreliable data
16 Oct 2017 - Click for More
New film uncovers lies behind biomass industry
20 Sep 2017 - Click for More
Greenyard Group's move to recycled woody biomass
29 Aug 2017 - Click for More
US states push for high-carbon emitting agenda
29 Aug 2017 - Click for More
Uncertain greenhouse data threatens Paris agreement
17 Aug 2017 - Click for More
Woody biomass certification a 'smokescreen' for unsustainability
28 Jul 2017 - Click for More
Earth Day protests reveal anger at biomass plans
14 Jul 2017 - Click for More
Study faults 'conflicts of interest' within biomass industry
10 Jul 2017 - Click for More
MDF recycling solution no.1 for energy efficiency
5 Jul 2017 - Click for More
Accounting rule loopholes bad news for our forests
20 Jun 2017 - Click for More
Replanting trees doesn't fix climate change, scientists warn
2 Jun 2017 - Click for More
Waste from coffee and poultry provide viable bio-fuel option
2 Jun 2017 - Click for More
Tree-planting has limited affect on climate change, study finds
30 May 2017 - Click for More
More renewable power than ever before, so why are we still using biomass?
25 May 2017 - Click for More
Is bioenergy increasing emissions in Europe?
15 May 2017 - Click for More
MPs slam government's carbon record
8 May 2017 - Click for More
View full news archive