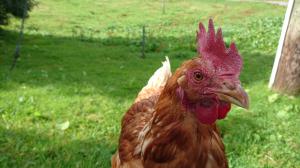 The UK Government has revealed that biomass plants using poultry litter and coffee waste will receive the highest tariffs under new incentives.

Both the Department for Business, Energy and Industrial Strategy (BEIS) and the Department for the Environment, Farming and Rural Affairs (Defra) confirmed that combusting poultry litter – a combination of manure and wood shavings from poultry barns – was a "uniquely sustainable" method for farms to power their operations.

While poultry litter biomass has received a boost across the country, using ground coffee waste for a similar purpose is also becoming popular.

Numerous coffee brands, including Costa, have partnered together to turn their coffee waste into bio-fuel. So far, around 15,000 homes have been heated by waste coffee grounds processed by clean technology company, bio-bean, in London alone.

For the first time, bio-bean has expanded its collection route outside of London, and have begun recycling coffee grounds for catering outfits located on the University of Birmingham campus.

Stuart Richards, the University of Birmingham's director of hospitality, said: "With more than 40,000 staff and students based on our campus in Edgbaston we anticipate that around 22 tonnes of coffee grounds are produced each year, so it is great to be able to work in partnership with companies to maximise the use of our waste resources and support our Carbon Management Plan".

Not only is this method good for the environment, but coffee companies will also be able to save money on waste disposal costs whilst reducing emissions by diverting the coffee from landfill.

These incentives come as welcome news, as fears over the effects of woody-biomass come to the fore.
Using truly sustainable bio-fuel such as this will be a far healthier alternative to the plants that are currently chopping down and burning healthy trees in a misguided effort to reach renewable targets.

When wood is harvested and burnt, carbon is released into the atmosphere which creates a 'carbon debt'. Some claim that replanting trees 'repays' this debt, however at the rate at which the carbon is reabsorbed, this is likely to take many decades.

You can find out more about this here.
---
Blog Archive
$1tn private sector investment supports Paris climate goals
3 Nov 2017 - Click for More
Environmentalists decry RED revision
25 Oct 2017 - Click for More
Conference looks at woody biomass sustainability issues
16 Oct 2017 - Click for More
Woody biomass criteria lead to unreliable data
16 Oct 2017 - Click for More
New film uncovers lies behind biomass industry
20 Sep 2017 - Click for More
Greenyard Group's move to recycled woody biomass
29 Aug 2017 - Click for More
US states push for high-carbon emitting agenda
29 Aug 2017 - Click for More
Uncertain greenhouse data threatens Paris agreement
17 Aug 2017 - Click for More
Woody biomass certification a 'smokescreen' for unsustainability
28 Jul 2017 - Click for More
Earth Day protests reveal anger at biomass plans
14 Jul 2017 - Click for More
Study faults 'conflicts of interest' within biomass industry
10 Jul 2017 - Click for More
MDF recycling solution no.1 for energy efficiency
5 Jul 2017 - Click for More
Accounting rule loopholes bad news for our forests
20 Jun 2017 - Click for More
Replanting trees doesn't fix climate change, scientists warn
2 Jun 2017 - Click for More
Waste from coffee and poultry provide viable bio-fuel option
2 Jun 2017 - Click for More
Tree-planting has limited affect on climate change, study finds
30 May 2017 - Click for More
More renewable power than ever before, so why are we still using biomass?
25 May 2017 - Click for More
Is bioenergy increasing emissions in Europe?
15 May 2017 - Click for More
MPs slam government's carbon record
8 May 2017 - Click for More
View full news archive