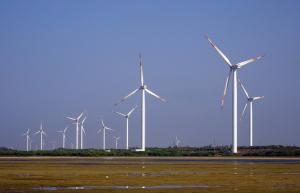 After years of hype and false starts, the complete shift to cleaner power is beginning to become an imminent possibility, leading some to consider 'Will the 21st Century be the last one for fossil fuels?'

The acceleration of the green energy industry has taken many by surprise. Wind and Solar parks are being built at unprecedented rates, and 2016 marked a benchmark in terms of renewable energy availability – so why are pseudo-sustainable options like wood-burning biomass still necessary?

The shift in energy production has come from government efforts to curb climate change along with technical advances and the increasing affordability of renewable options. Last year, global renewable power generation grew by 9 per cent – a fourfold increase from the start of this century – buoyed by the growth of newer sources such as solar power which shot up more than 30 per cent. For the second year in a row, renewable energy accounted for more than half the new power generation capacity added worldwide.

However, the problem of climate change is still a very real issue. Oil, gas and coal still account for 86 per cent of the energy needed to keep the world's lights on – a share that has barely changed in 25 years. Also, biomass is still consistently used as a viable and "environmentally friendly" alternative to fossils fuels despite the fact that deforestation is the third largest cause of CO2 pollution.

There is still a long way to go until truly clean power options become advanced enough to be able to support the worldwide population, but until that time it should be understood that wood-burning biomass is ailing the process, and not aiding it.
---
Blog Archive
$1tn private sector investment supports Paris climate goals
3 Nov 2017 - Click for More
Environmentalists decry RED revision
25 Oct 2017 - Click for More
Conference looks at woody biomass sustainability issues
16 Oct 2017 - Click for More
Woody biomass criteria lead to unreliable data
16 Oct 2017 - Click for More
New film uncovers lies behind biomass industry
20 Sep 2017 - Click for More
Greenyard Group's move to recycled woody biomass
29 Aug 2017 - Click for More
US states push for high-carbon emitting agenda
29 Aug 2017 - Click for More
Uncertain greenhouse data threatens Paris agreement
17 Aug 2017 - Click for More
Woody biomass certification a 'smokescreen' for unsustainability
28 Jul 2017 - Click for More
Earth Day protests reveal anger at biomass plans
14 Jul 2017 - Click for More
Study faults 'conflicts of interest' within biomass industry
10 Jul 2017 - Click for More
MDF recycling solution no.1 for energy efficiency
5 Jul 2017 - Click for More
Accounting rule loopholes bad news for our forests
20 Jun 2017 - Click for More
Replanting trees doesn't fix climate change, scientists warn
2 Jun 2017 - Click for More
Waste from coffee and poultry provide viable bio-fuel option
2 Jun 2017 - Click for More
Tree-planting has limited affect on climate change, study finds
30 May 2017 - Click for More
More renewable power than ever before, so why are we still using biomass?
25 May 2017 - Click for More
Is bioenergy increasing emissions in Europe?
15 May 2017 - Click for More
MPs slam government's carbon record
8 May 2017 - Click for More
View full news archive