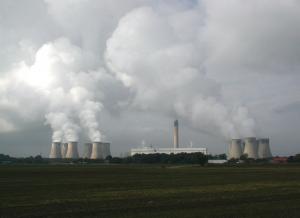 Campaigners protested in three major UK cities today over concerns about power station Drax and its involvement in 'dirty' energy.

Members from a coalition of groups including Biofuelwatch, Coal Action Network and London Mining Network protested outside Drax's AGM in York, the London offices of two of its major investors, Schroders and Invesco, and at Liverpool port, where some of the imported wood pellets burnt at Drax arrive in the UK.

The group said it wanted to highlighted Drax's involvement in 'dirty' energy, its contribution to climate change and deforestation and its reliance on government subsidies.

In York, campaigners unfurled banners reading "End Coal Now" and "Drax the Destroyer" before listening to talks from people including Selby local councillor Andy Hines.

The coalition said that in 2016 Drax received nearly £1.5 million a day in government subsidies to burn nearly 13 million tonnes of imported wood, some of which comes from biodiverse regions in the southern US.

Supplying wood pellets for European biomass stations is, they claim, a "major cause" of forest destruction and is putting many species under threat.

Biofuelwatch, one of the groups involved in the protests, said Drax's government subsidies should instead go towards energy conservation and "genuine" renewables.

The group's Duncan Law, who attended the London protest, said: "We are here today to tell Drax's two largest investors that financing forest destruction is unacceptable and a bad investment decision.

"Drax relies on government subsidies to stay afloat, receiving almost £1.5 million a day which should instead be going towards energy conservation and genuine renewables such as wind and solar power."

Katy Brown, who lives in Liverpool and attended the protest at the port, said: "We see trains leaving the port every day with 'sustainable biomass' written on them. Biomass that relies on imported wood from biodiverse ecosystems is in no way sustainable."

Fuel Poverty Action, members of Unite and concerned locals were also involved in the protests.
---
Blog Archive
$1tn private sector investment supports Paris climate goals
3 Nov 2017 - Click for More
Environmentalists decry RED revision
25 Oct 2017 - Click for More
Conference looks at woody biomass sustainability issues
16 Oct 2017 - Click for More
Woody biomass criteria lead to unreliable data
16 Oct 2017 - Click for More
New film uncovers lies behind biomass industry
20 Sep 2017 - Click for More
Greenyard Group's move to recycled woody biomass
29 Aug 2017 - Click for More
US states push for high-carbon emitting agenda
29 Aug 2017 - Click for More
Uncertain greenhouse data threatens Paris agreement
17 Aug 2017 - Click for More
Woody biomass certification a 'smokescreen' for unsustainability
28 Jul 2017 - Click for More
Earth Day protests reveal anger at biomass plans
14 Jul 2017 - Click for More
Study faults 'conflicts of interest' within biomass industry
10 Jul 2017 - Click for More
MDF recycling solution no.1 for energy efficiency
5 Jul 2017 - Click for More
Accounting rule loopholes bad news for our forests
20 Jun 2017 - Click for More
Replanting trees doesn't fix climate change, scientists warn
2 Jun 2017 - Click for More
Waste from coffee and poultry provide viable bio-fuel option
2 Jun 2017 - Click for More
Tree-planting has limited affect on climate change, study finds
30 May 2017 - Click for More
More renewable power than ever before, so why are we still using biomass?
25 May 2017 - Click for More
Is bioenergy increasing emissions in Europe?
15 May 2017 - Click for More
MPs slam government's carbon record
8 May 2017 - Click for More
View full news archive