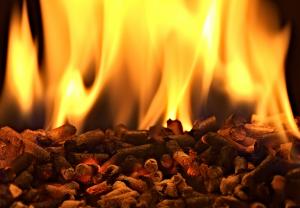 Policies that hope to reduce the effects of climate change by burning wood biomass for energy could result in a failure to meet emissions targets, according to one of Britain's leading climate experts.

Professor John Beddington, a former chief scientific adviser for the UK government, has suggested that there is a significant risk that an increase in the burning of wood biomass for fuel to help Europe meet renewable energy targets could be "misguided".

"These policies may even lead to a situation whereby global emissions [of carbon dioxide] accelerate," he said in a recent blog on Carbon Brief, one of the UK's leading climate and energy website. Instead, Professor Beddington argues that Britain should focus its investments on wind and solar projects.

Along with a number of other climate experts, Beddington conceded that the use of wood biomass as a fuel was implemented with the intention of replacing fossil fuels, which raise carbon levels in the atmosphere when combusted. However, they argue that burning wood to produce electricity is actually inefficient, releasing four times as much carbon as gas and one and half times more than coal to create the same amount of energy.

Phillip Williamson of the University of East Anglia mirrored Beddington's concerns, stating that it could have a negative impact on the farming industry or the world's natural forests if plants continue to use it as a source of energy.

"Such [wood biomass] policies haven't been properly thought through and risk making matters worse, not better," he said. "And even if further carbon dioxide release can be prevented, the scale of bioenergy required seems likely to have serious land-use implications, either at the expense of food production or resulting in natural habitat loss."
---
Blog Archive
$1tn private sector investment supports Paris climate goals
3 Nov 2017 - Click for More
Environmentalists decry RED revision
25 Oct 2017 - Click for More
Conference looks at woody biomass sustainability issues
16 Oct 2017 - Click for More
Woody biomass criteria lead to unreliable data
16 Oct 2017 - Click for More
New film uncovers lies behind biomass industry
20 Sep 2017 - Click for More
Greenyard Group's move to recycled woody biomass
29 Aug 2017 - Click for More
US states push for high-carbon emitting agenda
29 Aug 2017 - Click for More
Uncertain greenhouse data threatens Paris agreement
17 Aug 2017 - Click for More
Woody biomass certification a 'smokescreen' for unsustainability
28 Jul 2017 - Click for More
Earth Day protests reveal anger at biomass plans
14 Jul 2017 - Click for More
Study faults 'conflicts of interest' within biomass industry
10 Jul 2017 - Click for More
MDF recycling solution no.1 for energy efficiency
5 Jul 2017 - Click for More
Accounting rule loopholes bad news for our forests
20 Jun 2017 - Click for More
Replanting trees doesn't fix climate change, scientists warn
2 Jun 2017 - Click for More
Waste from coffee and poultry provide viable bio-fuel option
2 Jun 2017 - Click for More
Tree-planting has limited affect on climate change, study finds
30 May 2017 - Click for More
More renewable power than ever before, so why are we still using biomass?
25 May 2017 - Click for More
Is bioenergy increasing emissions in Europe?
15 May 2017 - Click for More
MPs slam government's carbon record
8 May 2017 - Click for More
View full news archive